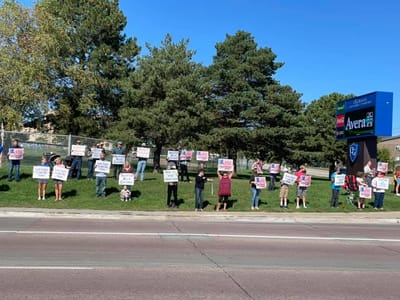 For the past several years the Sioux Falls Area Right to Life elected to take on the role of organizing the annual Life Chain event here in Sioux Falls. We were happy and excited to accept the invitation to do so from the previous Life Chain organizers. This last year 750 people lined 41st Street from Kiwanis Ave to Sertoma Ave in peaceful prayer to show their support for the end of abortion.
PURPOSE
Stand with tens of thousands of pro-life individuals throughout the USA and Canada, in honor of the millions of babies whose lives have been lost to abortion. Pray for people in crisis pregnancy situations, for women who have been hurt by abortion and for our nation.
WHEN & WHERE
Life Chain is held yearly on the first Sunday in October.
Sunday, October 1st 2:00 - 3:00 PM
W. 41st St. between S Western Ave. and Sertoma Ave.
Sign up
HERE
Save the Date for next year.DETAILS
Bring your entire family. We will provide signs. Signs may be picked up at and returned to the parking lots of Sioux Falls First Church or O'Gorman High School.
Encourage your church to come as a group. Church pastors are being invited – see if yours is planning to promote and participate.
ADOPT A BLOCK! Kindly let us know the number in your group by Sept. 30, so a specific block on the route can be reserved. We can then direct you to a check-in station near that location to pick up your signs.
Water, lawn chairs, umbrellas, wheel chairs and strollers are welcome and encouraged.
Life Chain will be held rain or shine, so dress appropriately.
Donations are accepted to cover costs of the local Life Chain ($1 per person appreciated but not mandatory.) All proceeds after expenses will be given to the Alpha Center.
As you stand for the unborn, please space yourselves 25 feet apart along the route (parents with young children are an exception.)
Roosevelt High School, O'Gorman and Sioux Falls First Church will have parking. Do not park in front of any open businesses. Arrive by 1:30 pm to allow time for parking and finding your block.
This is a time of quiet prayer and reflection. Please refrain from responding to comments from passersby.
For inquires, contact 605-929-6531 or righttolifesf@gmail.com for more information.​​